FEDERAL IT MINISTRY LAUNCHED 3 MORE PROJECTS OF OFC WORTH PKR, 5 BILLION FOR 6 DISTRICTS OF SINDH.
2nd June, 2022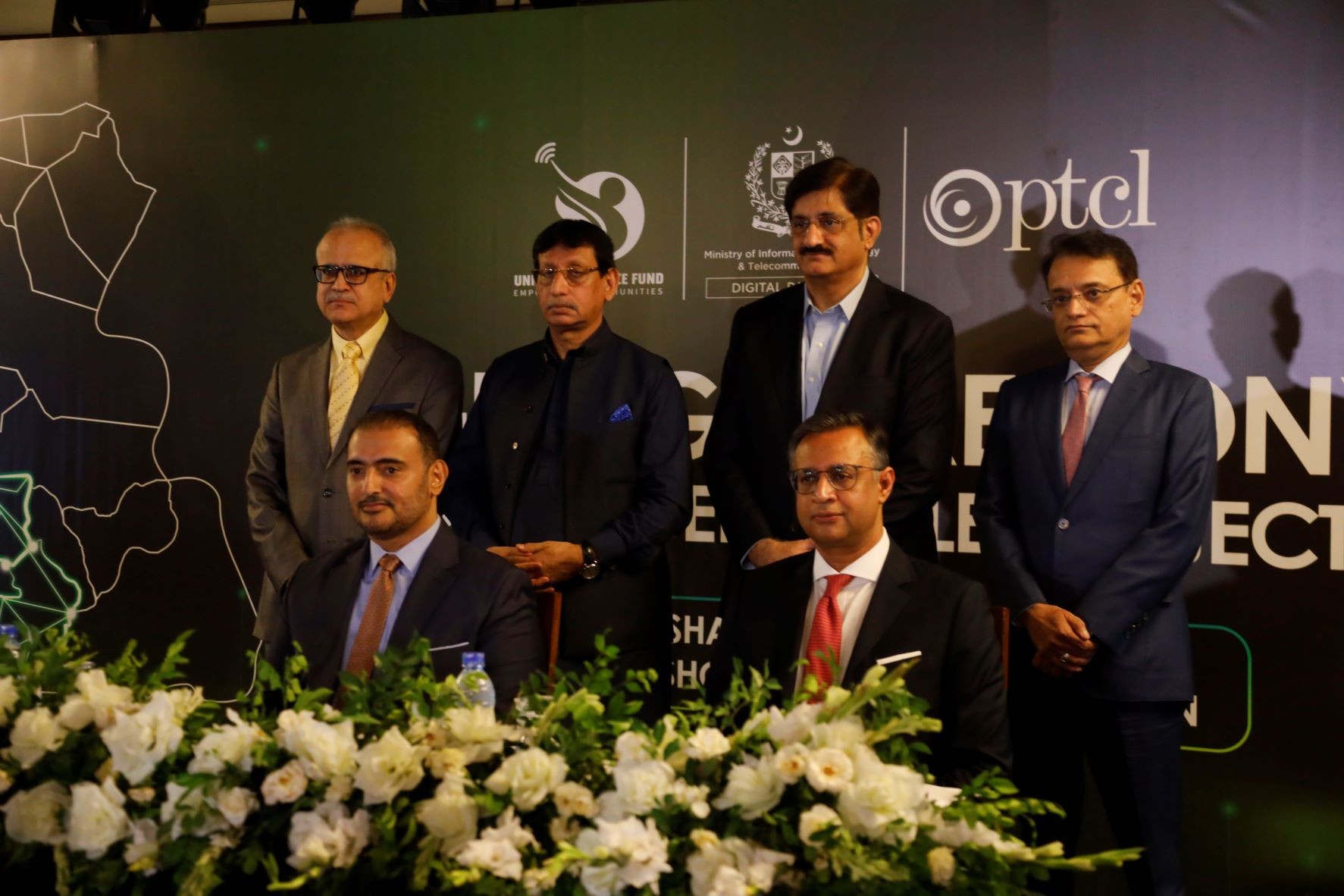 Federal IT Ministry launched 3 more Projects of OFC worth PKR, 5 Billion for 6 Districts of Sindh.
The Optical Fiber Cable will have provided high speed connectivity to 4.2 million residents of Larkana, Hyderabad, Badin, Qambar Shahdad Kot, Jamshoro and Badin and will be completed in 16 months. Contract Signed Between Universal Service Fund, & PTCL, Chief Minister Murad Ali Shah, Federal Minister for IT Syed Amin-Ul-Haque graced the occasion.
Karachi; Thursday, June, 02, 2022: Federal Ministry of Information Technology and Telecommunications (MOITT) launched 3 more projects worth PKR. 5 billion for 6 districts of Sindh, which will prove to be an important milestone in the commitment of the MOITT to connect the people of Sindh to the digital world. The signing ceremony was held at a local hotel in Karachi on Thursday, Sindh Chief Minister Syed Murad Ali Shah and Federal Minister for IT and Telecom Syed Amin-Ul-Haque graced the occasion while Chief Secretary Sindh Dr. Muhammad Suhail Rajput, Secretary IT & Chairman USF Board, Mohsin Mushtaq other Senior officials and Diplomats attended the Contract Signing Ceremony. The agreement was signed by Haaris Mahmood Chaudhry, Chief Executive Officer, Universal Service Fund, (USF) Ministry of IT, and President & Group CEO, PTCL & Ufone, Hatem Bamatraf.
Addressing the occasion; The Chief Guest Chief Minister of Sindh Syed Murad Ali Shah said that there was a time when technological advancements and economic conditions in some parts of our country were at a very crucial stage, and they had hampered the daily lives of millions of people in Pakistan. He said that to overcome all these challenges, and in line of the vision of Digital Pakistan, Ministry of Information Technology (IT) & Telecommunication through Universal Service Fund (USF) has been running diverse projects which are playing a huge role in socio-economic development of the people. I take great pride in mentioning here that all this was made possible through the continuous efforts of the Ministry of IT & Telecommunications.
In his address Federal Minister for IT & Telecommunications Syed Amin-Ul-Haque said that USF is awarding the contracts to lay OFC in un\underserved districts of Dadu, Jamshoro, Larkana, Kambar ShahdadKot, Hyderabad and Badin in Sindh. These projects, worth over PKR 5 billion, will connect a total of 207 towns and Union Councils (UCs) through 2,192 km of OFC, benefiting a population of 4.2 million residents in these areas. This will play a huge role in the socio-economic well-being of the people by providing them with e-suite services in all sorts of life.
Syed Amin-Ul-Haque further said that Ministry of IT and Telecommunication through USF aims to connect all the citizens of Pakistan as digitalization has become a priority for businesses and communities. Under its Next Generation Optic Fiber (NG-OF) Network & Services program, USF has contracted over 16,000 km of Optic Fiber Cable (OFC) to benefit 31.5 million populations across the country. He said by providing access to information and e-suite services, such as e-healthcare, e-finance, e-agriculture & e-education. Ministry of IT and Telecommunication is enabling the rural and remote communities of the country to compete better and support the economic development to bring a positive impact on the national Gross Domestic Product (GDP) of Pakistan while contributing to the United Nations (UN) Sustainable Development Goals (SDGs).
Referring to the current political situation in the country, the Federal Minister for IT said that we stayed with PTI for 3 years and 7 months, during this time we tried our best to identify the wrongdoings of the government and provide full support to good decisions. He said that during this period, the (MQM) and its people were called sophisticated and dignified, but with the secession from the government on March 30, we were suddenly declared terrorists and traitors.
He asked the PTI leadership to state under oath whether they ever showed seriousness in fulfilling the promises made to the MQM? Have we ever been taken into confidence in important/Policy decisions? And most of all, if there was an external conspiracy against the country, were we ever told anything about it?
Syed Amin-Ul-Haque revealed that even on a visit to the MQM markaz, Imran Khan did not speak in this regard, then how can he complain to us ...!! He said that today the alliance with PPP in Sindh and PML-N in the federation has been made only for the welfare of the people especially for the solution of the problems of urban areas of Sindh. "Our demands are the same and we are the same sophisticated people, there is no change, the difference is that change has come in the mood and politics of the PTI," he added.
On the occasion, President & Group CEO, PTCL & Ufone, Hatem Bamatraf, said, "PTCL, being a national company continues to serve as the backbone of connectivity in Pakistan. In an effort to play our vital role in providing uninterrupted and quality communication services in far-flung areas of the country, we have once again collaborated with Universal Service Fund, we are committed to support the underserved communities by empowering them for a better future".
Earlier in his welcome address CEO Universal Service Fund (USF) Mr. Haaris Mahmood Choudhry highlight the details about the projects and said USF is spreading the benefits of the Information and Communication Technologies (ICTs) to all corners of Pakistan. USF strives to provide IT and Telecommunication services in un/under-served areas of Pakistan to bridge the digital divide in line with the vision of Digital Pakistan.