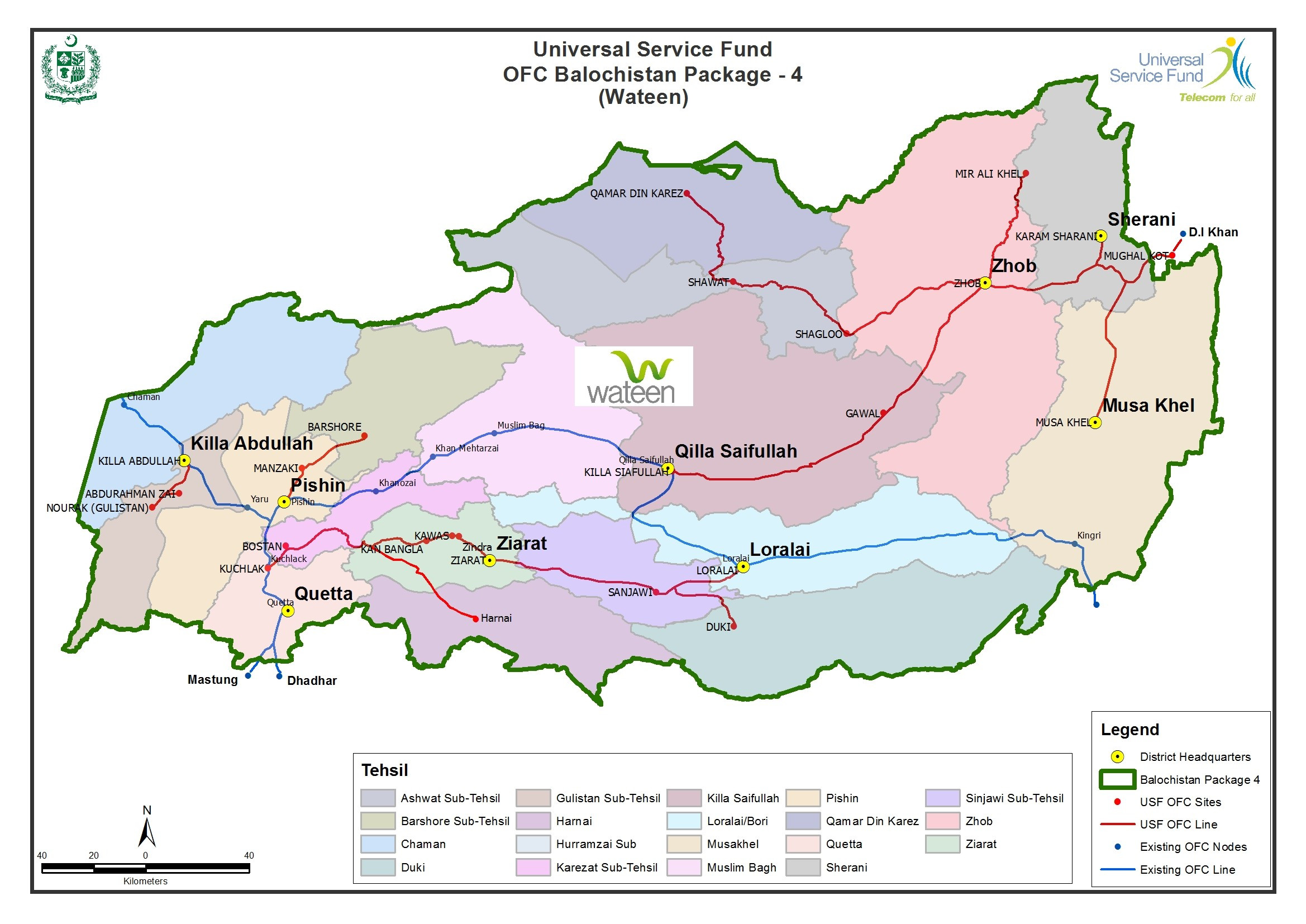 BALOCHISTAN-PACKAGE-4
INTRODUCTION
The Balochistan-Package 4 is providing Optic Fiber Connectivity to un-served tehsils having a population of 1.7 Million with almost 1,400 kms of Optic Fiber Cable.
Auction Detail:
Package ID:
USF/SP/OpticFiber/2009/Balochistan-Package-4
Advertised On:
8th October 2009
Bidders Registered:
1. Pakistan Telecommunication Company Limited (PTCL)

2. Wateen Telecom Pvt. Ltd.

Bid Submission & Opening of
Qualification & Services Proposals:
Following registered bidder submitted its Proposals on 16th August 2010;

1. Wateen Telecom (Pvt.) Ltd.


Financial Bid Opening of Technically Qualified
Bidder(s):

Wateen was declared Technically qualified bidder and its Financial Bid was opened on 18thOctober 2010. Subsidy requested by Wateen w as as follows;

1. Wateen Pak Rs. 2,200,000,000/-

M/s Wateen Telecom (Pvt.) Ltd. further offered a voluntary discount and the final subsidy requested was Pak Rs. 1,975,000,000/-.

Result:
M/s Wateen Telecom (Pvt.) Ltd. was declared as the lowest qualified bidder and contract, worth Pak Rs. 1,975,000,000/-, was signed with Wateen on 13th July 2011, after approval from USF Board of Directors.
Current Status
Tehsil+Towns

Length of Optic Fiber (in kms)
Operator
Contracted
Connected

Audited

Contracted
Laid
Audited
Wateen

19

19

19

1438.739
1438.739
1438.739
Technical Audit:
| | | |
| --- | --- | --- |
| | Offer Date | Audit Start Date |
| TA of Milestone 1 (25% work) | 7 May 2013 | 10 Dec 2013 |
| TA of Milestone 2 (50% work) | 31 May 2013 | 10 Dec 2013 |
| TA of Milestone 3 (75% work) | 04 June 2014 | 10 June 2014 |
| TA of Milestone 4 (100% work) | 19 March 2015 | 30 March 2015 |