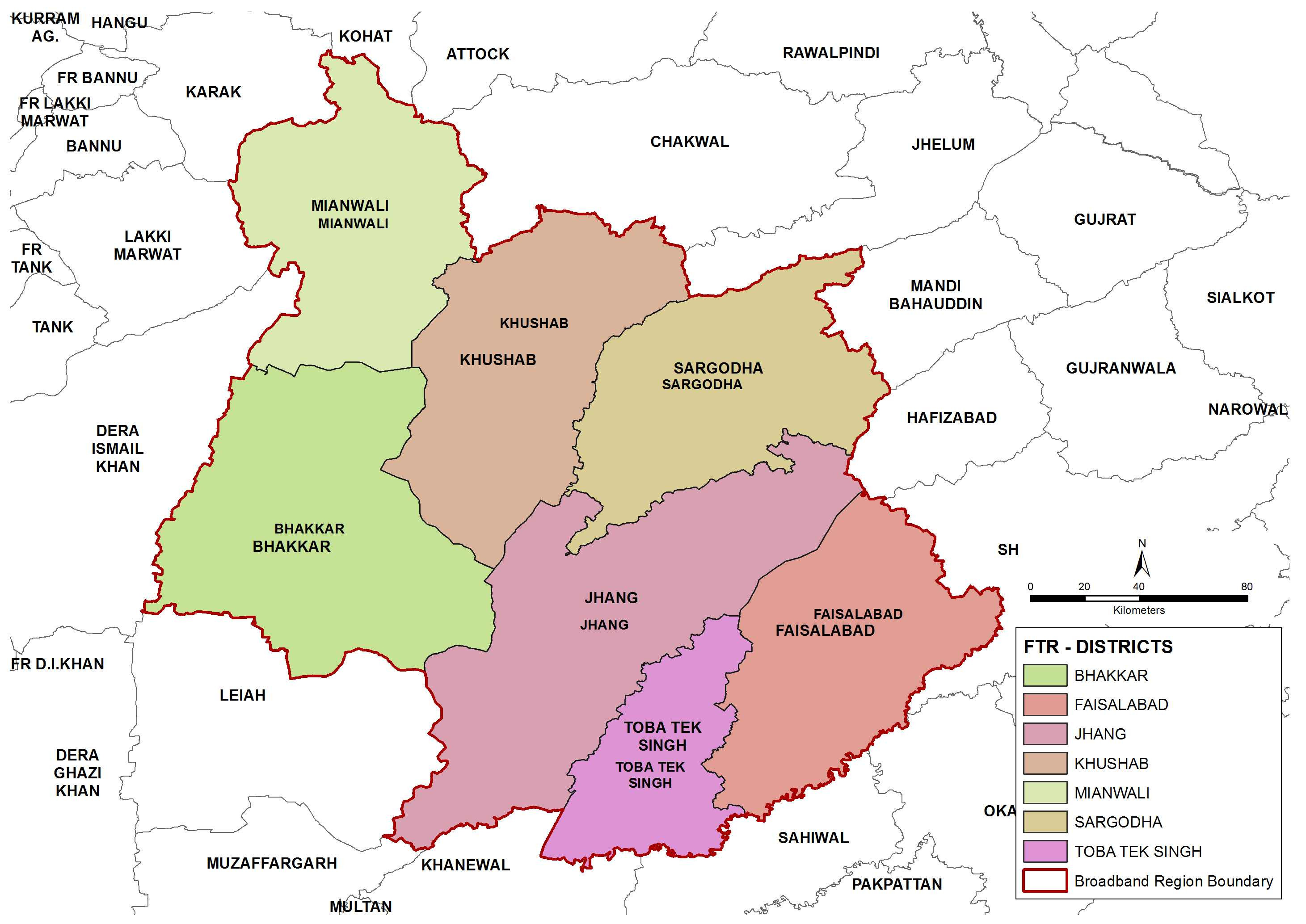 FAISALABAD TELECOM REGION
INTRODUCTION:
Faisalabad Telecom Region (FTR) consists of the following districts:
1. Faisalabad
2. Jhang
3. Sargodha
4. Toba Tek Singh
5. Khushab
6. Bhakkar
7. Mianwali

FTR has a total area of 44,275 Sq Kms, a total population of approx 19.4M (i.e. 12.1% of Total Population of Pakistan) and a population density of 440 Persons/SqKms. Faisalabad is the largest district of the said region, it is considered the industrial hub of Pakistan. The Cellular Tele-density for the Region is approx 53%. Narrow band Internet services are available through multiple operators in all the districts, either through Narrowband Pops or Virtual Pops. Broadband coverage is available at the central areas of the city of Faisalabad, the rest of the region has no broadband availability. Through this project, initially 72,500 broadband connections will be provided by PTCL and 16,500 by Wateen Telecom. A major highlight of this project will be establishment of more than 250 Educational Broadband Centres in all the High Schools and Colleges in these towns and cities, besides more than 105 community broadband centres will be set up which will provide broadband to those who cannot afford their own computers.
Auction Detail:
Region ID:

Broadband FTR-1/2008

Advertised On:

Bidders Registered:

1. Great Bear International Services Pvt. Ltd (Diallog)
2. Pakistan Telecommunication Company Limited (PTCL)
3. Wateen Telecom Pvt. Ltd


Opening of Qualification & Services Proposals:

Following two registered bidders submitted their Qualification & Services Proposals on 21st November 2008;

Pakistan Telecommunication Company Limited (PTCL)
Wateen Telecom Pvt. Ltd.

Financial Bid Opening of Technically Qualified Bidders

Following bidders were declared Technically Qualified and their Financial Bids were opened on 18th December 2008. Subsidy requested by each bidder, based on 100% target, is as follows;

Proposed Subsidy (PKR) per District

S/No

Districts

PTCL

Wateen

1

Bhakkar

89,500,000

235,780,000

2

Faisalabad

193,800,000

334,780,000

3

Jhang

405,000,000

673,100,000

4

Khushab

151,100,000

417,320,000

5

Mianwali

119,300,000

325,780,000

6

Sargodha

546,700,000

469,040,000

7

Toba Tek Singh

195,800,000

432,320,000

Note: Lowest Bids are marked in bold.


Result

After the process of matching lowest subsidy and selection of targets by the bidders (as per USF Broadband Bidding documents – RFA & SSA), the contracts that have been signed with the two bidders are summarized below.


| | | | | | | |
| --- | --- | --- | --- | --- | --- | --- |
| Bidder | Presence | Target No. of Broadband Connections | Target No. of EBCs | Target No. of CBCs | Subsidy Amount (PKR) | Contract Signed on |
| PTCL | All 7 Districts | 72,500 | 200 | 75 | 1,191,620,000 | 27th April 09 |
| Wateen | 1 District (Sargodha) | 16,500 | 50 | 30 | 239,140,000 | 27th April 09 |

EBC=Educational Broadband Center
CBC=Community Broadband Center
Current Status
PTCL

Wateen

Contracated

Provided

Audited

Contracated

Provided

Audited

Broadband Connections

72,500

110,613

72,500

16,500

16,609

16,500

EBC

200

194

194

50

49

49

CBC

75

64

64

30

30

30

Cities and Towns Covered

Contracted = 56 Covered= 56
WATEEN
| | | | |
| --- | --- | --- | --- |
| Technical Audit | Offer Date | Audit Start Date | Audit Completion Date |
| TA of Milestone 1 (25% work) | 12-Oct-2010 | 01-Nov-2010 | 21-Dec-2010 |
| TA of Milestone 2 (50% work) | 10-July-2013 | 30-May-2014 | 18-Jun-2014 |
| TA of Milestone 3 (75% work) | 24-Mar-2014 | 30-May-2014 | 18-Jun-2014 |
| TA of Milestone 4 (100% work) | 18-Jun-2014 | 22-Sep-2014 | 10-Oct-2014 |
PTCL
| | | | |
| --- | --- | --- | --- |
| Technical Audit | Offer Date | Audit Start Date | Audit Completion Date |
| TA of Milestone 1 (25% work) | 28-Apr-2010 | 21-May-2010 | 12-Jun-2010 |
| TA of Milestone 2 (50% work) | 23-Oct-2013 | 17-Jun-2014 | 01-Dec-2014 |
| TA of Milestone 3 (75% work) | 23-Oct-2013 | 17-Jun-2014 | 01-Dec-2014 |
| TA of Milestone 4 (100% work) | 23-Oct-2013 | 17-Jun-2014 | 01-Dec-2014 |
Pre-Bid Information Package