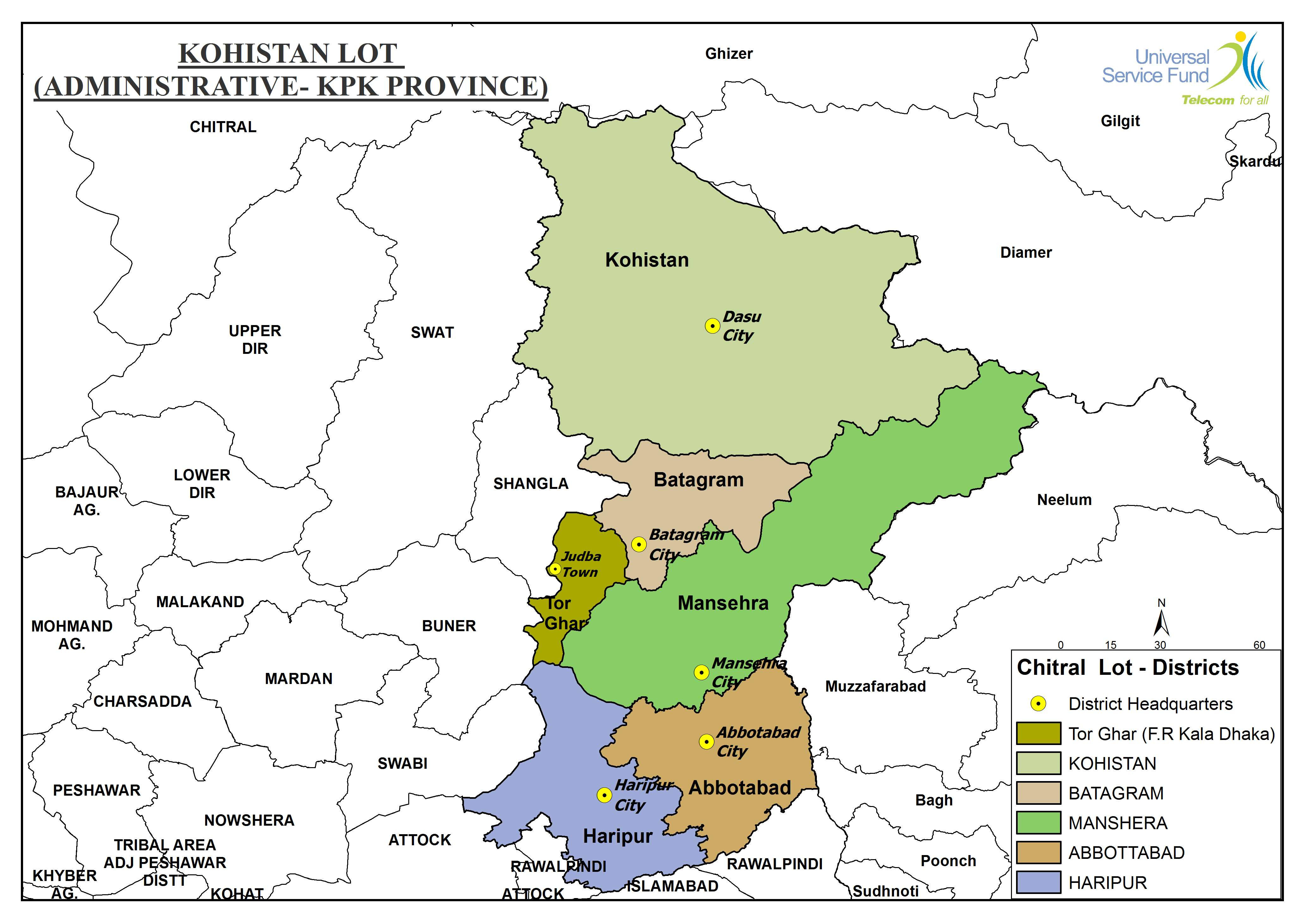 KOHISTAN LOT
INTRODUCTION
Kohistan Lot covers 22.9% of the area and 6.13 % of the total estimated population of Khyber Pakhtunkhwa and includes Kohistan, Batagram, Mansehra, Haripur and Abbotabad districts.
The areas included in Kohistan Lot span from 33.725352° To 35.888504° N and from 72.544045° to 74.134687° E. This Lot is bounded by Northern Areas in the North, Azad Jammu and Kashmir in the East, Rawalpindi, Islamabad and Attock Districts in the South, Swabi, Buner and Shangla Districts in the West and Swat District in the North-West.
Auction Detail:
Lot ID:

BSD/Lot7A-Kohistan/2016

Advertised On:

28th October 2016

Bidders Registered:

1. Pak Telecom Mobile Limited (Ufone)

2. Telenor Pakistan Pvt. Ltd

Opening of Qualification & Services Proposals:

M/s PTML and Telenor submitted the Qualification & Services and Subsidy Proposals on 16th January 2017.

Qualification & Services proposals were opened on the same day.




Financial Bid Opening of Technically Qualified Bidders:

Both bidders were declared Technically Qualified and Subsidy Proposals were opened on 3rd February 2017. Subsidies requested were as follows;

PTML Capex Subsidy: Pak Rs. 6,649,000,000/-
PTML Opex Subsidy: Pak Rs. 50,000,000/-

Telenor Capex Subsidy: Pak Rs. 3,310,872,514/-
Telenor Opex Subsidy: Pak Rs. 196,177,101/-

Result:

M/s Telenor Pakistan Pvt. Ltd. was declared as the lowest qualified bidder and contract, worth Pak Rs. 3,507,049,615/-, was signed with Telenor Pakistan on 13thMarch 2017.
Current Status:
| | | | |
| --- | --- | --- | --- |
| Technical Audit | Offer Date | Audit Start Date | Audit Completion Date |
| TA of Milestone 1 (25% Work) | 05-Jul-2018 | 10-Jul-2018 | 03-Sep-2018 |
| TA of Milestone 2 (50% Work) | 18-Jul-2019 | 27-Jul-2019 | 20-Oct-2019 |
| TA of Milestone 3 (75% Work) | 24-Dec-2019 | 04-June-2020 | 12-June-2020 |
| TA of Milestone 4 (100% Work) | 08-Nov-2021 | 15-Nov-2021 | 03-jan-2021 |
Mauzas:

Contracted

Covered

Audited

1283

973

973