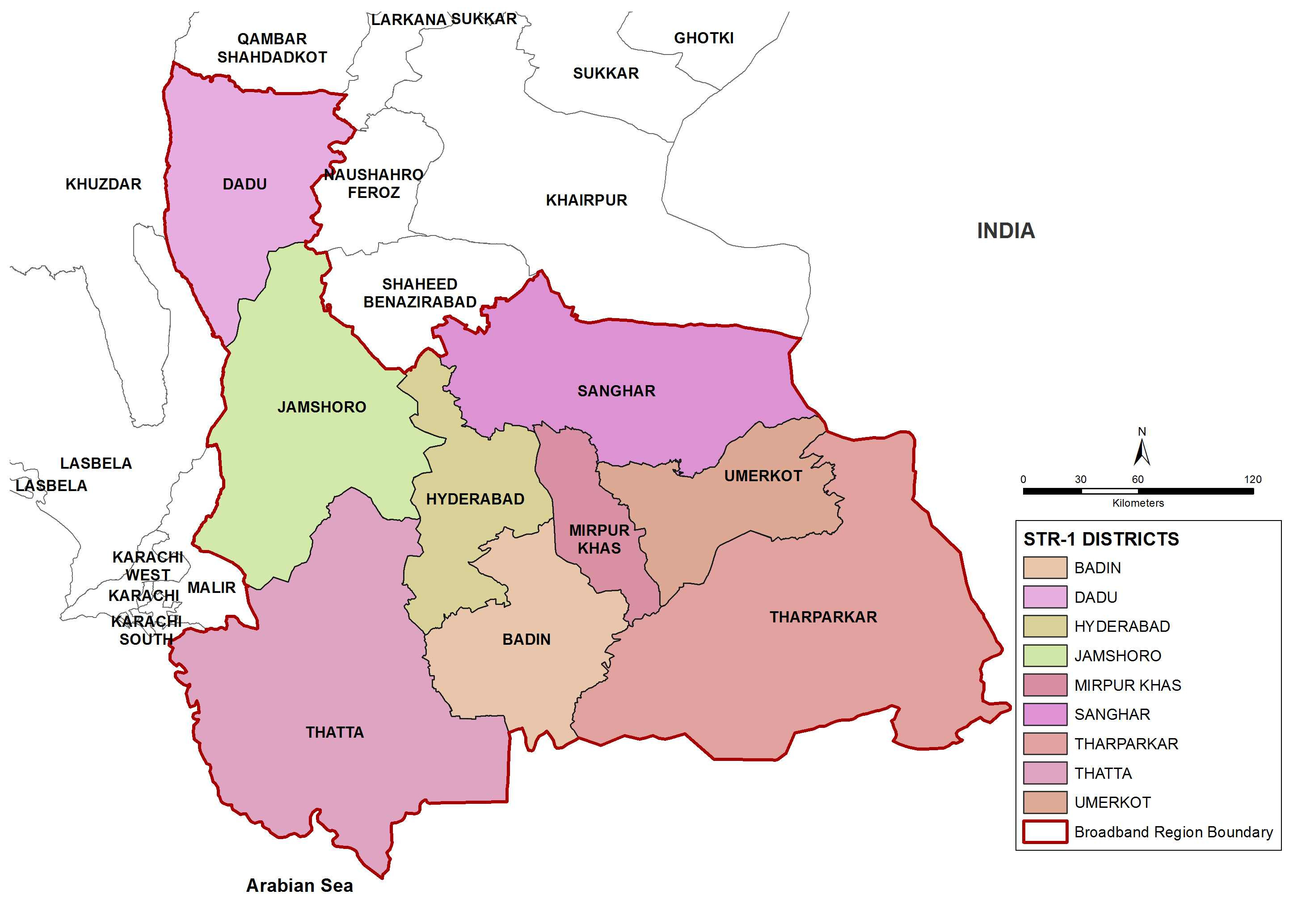 SOUTHERN TELECOM REGION - I
INTRODUCTION:
This project is a step towards initating provision of broadband in the un-served urban areas of Sindh. Southern Telecom Region-I (STR-I) consists of the following districts:
1. Badin
2. Dadu
3. Hyderabad
4. Jamshoro
5. Mirpur Khas
6. Sanghar
7. Tharparkar
8. Thatta
9. Umerkot
STR-I, as a whole, has a total area of about 86,500 Sq Kms, a total population (rural + urban) of around 20 M (i.e.11.7% of Total Population of Pakistan) and a population density of 231 Persons/SqKms. This project targets an urban population of 2.3M in 77 Cities/Towns of STR-I (excluding the city of Hyderabad).
Narrow band (dial-up) Internet services are available through multiple operators in all the districts, either through Narrowband Pops or Virtual Pops, via fixed line dialup as well as narrowband wireless technologies. 82 Educational Broadband Centres and 43 Community Broadband centres will be established through this project along with providing 23,500 broadband connections.
Auction Detail:
Region ID:

Broadband STR I-1/2009

Advertised On:

2nd March 2009

Bidders Registered:

1. Multinet Pakistan Pvt. Ltd.

2. Pakistan Telecommunication Company Limited (PTCL)

3. Wateen Telecom Pvt. Ltd.

4. Wi-Tribe Pakistan Ltd.

5. Worldcall Telecom Ltd.

Opening of Qualification & Services Proposals:

Following two registered bidders submitted their Qualification & Services Proposals on 1st June 2009;

1. Pakistan Telecommunication Company Limited (PTCL)

2. Wateen Telecom Pvt. Ltd.

Financial Bid Opening of Technically Qualified Bidders:

Following bidders were declared Technically Qualified and their Financial Bids were opened on 5th June 2009. Subsidy requested by each bidder, based on 100% target, is as follows;

Proposed Subsidy (PKR) per District

S/No

Districts

PTCL

Wateen

1

Badin

147,756,608

291,141,000

2

Dadu

214,147,662

405,503,000

3

Hyderabad

189,776,980

435,160,000

4

Jamshoro

71,065,070

115,315,000

5

MirpurKhas

190,723,936

386,558,000

6

Sanghar

198,610,368

531,352,000

7

Tharparkar

17,826,212

59,841,000

8

Thatta

70,217,872

192,116,000

9

UmerKot

69,369,900

192,292,000

Note: Lowest Bids are marked in bold.

Result

After the process of matching lowest subsidy and selection of targets (as per USF Broadband Bidding documents – RFA & SSA), the contract that has been signed with PTCL is summarized below.

| | | | | | | |
| --- | --- | --- | --- | --- | --- | --- |
| Bidder | Presence | Target No. of Broadband Connections | Target No. of EBCs | Target No. of CBCs | Subsidy Amount (PKR) | Contract Signed on |
| PTCL | All 9 Districts | 23,500 | 82 | 43 | 549,555,618 | 25th June 2009 |

EBC=Educational Broadband Center
CBC=Community Broadband Center
Current Status
PTCL

Contracated

Provided

Audited

Broadband Connections

23,500

56,393


20,146

EBC

82

82

82

CBC

43

43

43

Cities and Towns Covered

Contracted = 77 Covered= 77

For details regarding selection of Technical Auditor click here

PTCL
| | | | |
| --- | --- | --- | --- |
| Technical Audit | Offer Date | Audit Start Date | Audit Completion Date |
| TA of Milestone 1 (25% work) | 27-Jan-2011 | 18-Feb-2011 | 14-Mar-2011 |
| TA of Milestone 2 (50% work) | 27-Jan-2011 | 18-Feb-2011 | 27-Feb-2011 |
| TA of Milestone 3 (75% work) | 27-Jan-2011 | 18-Feb-2011 | 13-Jun-2011 |
| TA of Milestone 4 (100% work) | 12-Mar-2012 | 18-Apr-2012 | 10-Apr-2014 |
Pre-Bid Information Package