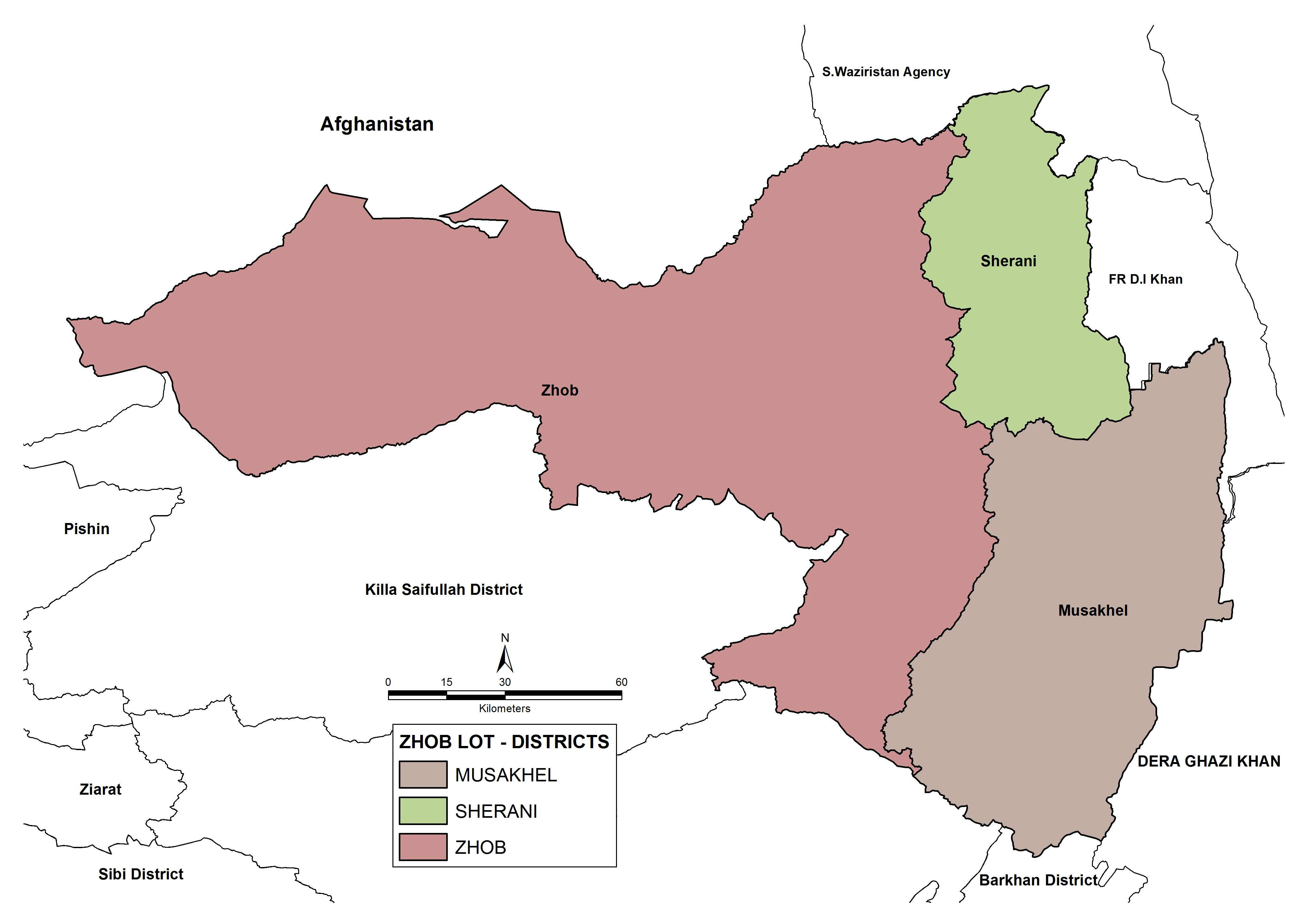 ZHOB
INTRODUCTION
Zhob Lot covers 6% of the area and 10% of the total estimated population of Baluchistan, and includes Musakhel, Sherani and Zhob district. This Lot shares borders with Dera Ghazi Khan, Barkhan Districts and Tribal Areas adjoining Dera Ismail Khan in the East, Afghanistan and South Waziristan Agency in the North-West, Killa Saifullah and Lorallai Districts in the South-West.
Auction Detail:
Lot ID:

RTeS/Lot16-Zhob/2015

Advertised On:

30th January 2015

Bidders Registered:

1. CMPak Ltd ( Provisionally)

2. Pak Telecom Mobile Limited (Ufone).

3. Telenor Pakistan Pvt. Ltd

Opening of Qualification & Services Proposals:

Only M/s Telenor submitted the Qualification & Services and Subsidy Proposals on 20th April 2015. Qualification & Services proposal was opened on the same day.

Financial Bid Opening of Technically Qualified Bidders:

M/s Telenor was declared Technically Qualified and Subsidy Proposal was opened on 30th April 2015. Subsidy requested is as follows;

Telenor Capex Subsidy

Opex Subsidy

Pak Rs. 3,606,780,417/-

Pak Rs. 173,794,918/-

Result:

M/s Telenor Pakistan (Pvt.) Ltd. was declared as the lowest qualified bidder and contract, worth Pak Rs. 3,614,575,335/-, after price reduction by the bidder, was signed with Telenor Pakistan on 7th August 2015.
Current Status:
Mauzas

PCOs

Telecenters

Contracted

Covered

Audited

Contracted

Covered

Audited

Contracted

Covered

Audited

330

265

265


-

-

-

-

-

-
Technical Audit:
For details regarding selection of Technical Auditor click here Contract has been signed with M/s Pak Telecom Mobile Limited (Ufone)
| | | | |
| --- | --- | --- | --- |
| | Offer Date | Audit Start Date | Audit Completion Date |
| TA of Milestone 1 (25% Work) | 03-Nov-2016 | 17-Dec-2016 | 31-Dec-2016 |
| TA of Milestone 2 (50% Work) | 18-Jan-2017 | 05-Feb-2017 | 17-Feb-2017 |
| TA of Milesstone 3 (75% Work) | 26-Apr-2017 | 04-May-2017 | 16-May-2017 |
| TA of Milestone 4 (100% Work) | 06-Sep-2017 | 15-Sep-2017 | 01-Oct-2017 |